Praise and worship to God is a very important part of the culture at Peacemakers International!
On Sunday evenings at 6 p.m., "The Convergence" takes place at Peacemakers.  It is a time of believers joining together to lift up one sound of praise to the King of Kings!
There is an opportunity for praise and worship teams from around the globe to come join us on this platform that God is building in the inner city of Detroit! 
These events are a real highlight of everything that takes place at Peacemakers International!  We believe that God has called us to help facilitate a 24/7 praise and worship movement in Detroit.  Future plans include building a large facility known as "The Prince Of Peace Worship Center" where God alone will truly be exalted in this place built exclusively for praise.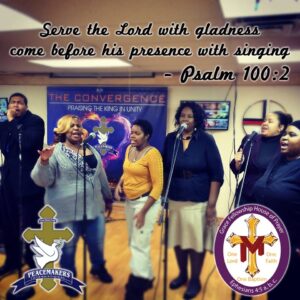 All are welcome to these gatherings, also fill out this form if you would like to bring down a praise and worship team!